Everyone's favorite summer, family event s back! See all the 2020 movie releases you may have missed seeing on the big screen last year!
Doors for all movie showings will open at 6pm and the movies will beign at 6:30pm!
Socially distanced seating will be available. Unvaccinated guests are encouraged to mask indoors. Read our full Covid-19 safety protocols that will be in place.
July 26: Raya & The Last Dragon
Walt Disney Animation Studios' Raya and the Last Dragon travels to the fantasy world of Kumandra, where humans and dragons lived together in harmony long ago. But when an evil force threatened the land, the dragons sacrificed themselves to save humanity. Now, 500 years later, that same evil has returned and it's up to a lone warrior, Raya, to track down the legendary last dragon to restore the fractured land and its divided people. However, along her journey, she'll learn that it'll take more than a dragon to save the world—it's going to take trust and teamwork as well. Raya and the Last Dragon features the voices of Kelly Marie Tran as Raya, a warrior whose wit is as sharp as her blade, and Awkwafina as the magical, mythical, self-deprecating dragon named Sisu. Characters also include a street-savvy 10-year-old entrepreneur named Boun, the formidable giant Tong and a thieving toddler Noi with her band of Ongis.
---
August 9: DoLittle
Dr. John Dolittle lives in solitude behind the high walls of his lush manor in 19th-century England. His only companionship comes from an array of exotic animals that he speaks to on a daily basis. But when young Queen Victoria becomes gravely ill, the eccentric doctor and his furry friends embark on an epic adventure to a mythical island to find the cure.
---
August 23: The Croods 2
Prehistoric family the Croods live in a particularly dangerous moment in time. Patriarch Grug (Nicolas Cage), his mate, Ugga (Catherine Keener), teenage daughter Eep (Emma Stone), son Thunk (Clark Duke) and feisty Gran (Cloris Leachman) gather food by day and huddle together in a cave at night. When a more evolved caveman named Guy (Ryan Reynolds) arrives on the scene, Grug is distrustful, but it soon becomes apparent that Guy is correct about the impending destruction of their world.
August 2: Sonic the Hedgehog
The world needed a hero — it got a hedgehog. Powered with incredible speed, Sonic embraces his new home on Earth — until he accidentally knocks out the power grid, sparking the attention of uncool evil genius Dr. Robotnik. Now, it's supervillain vs. supersonic in an all-out race across the globe to stop Robotnik from using Sonic's unique power to achieve world domination.
---
A legendary rivalry reemerges when Jerry moves into New York City's finest hotel on the eve of the wedding of the century, forcing the desperate event planner to hire Tom to get rid of him. As mayhem ensues, the escalating cat-and-mouse battle soon threatens to destroy her career, the wedding, and possibly the hotel itself.
---
NiMarco's Pizza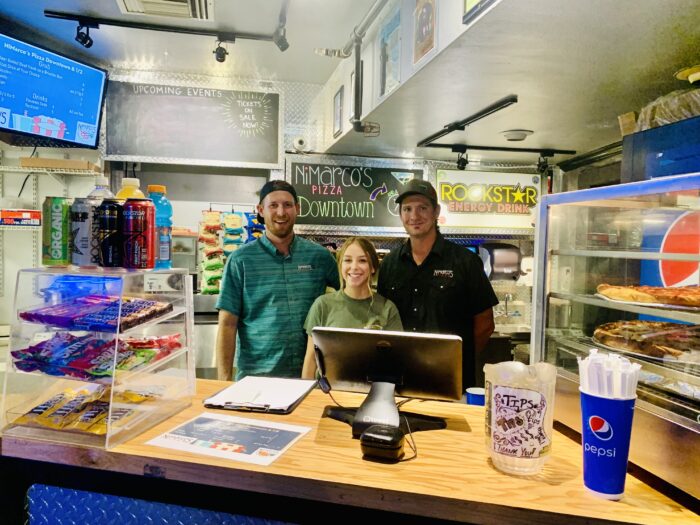 Grab a hot slice of NiMarco's Pizza while you're at the theater to really make the family movie night experience complete!