Looking for a great place to warm up and have fun on New Year's Eve?
Ring in the new year at the historic Orpheum Theater in downtown Flagstaff with performances by F-Town Sound and Righteous Harmony! There's no better way to welcome in the New Year than dancing the night away.
We'll start the night with music by Righteous Harmony, get groovy with F-Town Sound, and end the night with a New Orlean's style precession out to the Great Pine Cone Drop where we will put 2021 to rest and say hello to 2022 together as a united community!
Nearly every year since 1999, the Flagstaff community has gathered together to watch the Great Pine Cone Drop at The Weatherford Hotel. This year, elevate your experience by coming over to the Orpheum before, enjoy a night of music and drinks, then join the parade out to Aspen Street, led by F-Town Sound.
You may be asking, what is the Great Pine Cone Drop? Well, it's a 70-pound giant pinecone lit up nice and bright, similar to the ball drop in New York City. Being surrounded by pines, the outdoors mean a lot to the Flagstaff community. This is a way of both connecting us back to nature and unifying together as a community.
Get even more out of your New Year's experience with the Orpheum New Year's VIP ticket option. Included in this ticket is everything you'll need to get your night off to a perfect start, including a bottle of champagne, drink service to your table and reserved seating in the VIP section of the dancefloor.
Let's meet the bands!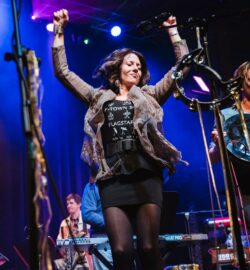 F- Town Sound:
Western Funk meets Latin Groove. Wanna dance with a freight train? F-Town Sound's got you!
They draw influences from artists such as Tower of Power, Calexico, Galactic, The Cat Empire, Nathaniel Rateliff, and more!
Featuring Flagstaff's very own @golightly_music and Dina Barnese of Rock Nineon Vocals coupled with the deepest rhythm section this side of Sunny Side, and Flagstaff's loudest horn section!
Righteous Harmony:
Pure Improv Chaos!
Righteous Harmony has a knack for making things up as they go along – no song is ever played the same way twice. The band is comprised of two guitarists, a bassist, a drummer, an electro-saxophonist, and an ever-rotating group of guest artists.
You'll find rock, jazz, the Dead, fusion, blues, and most everything else at a Righteous Harmony show. Following a March 2021 EP release, "Oppose the Bucket", and a December 2021 album, "Live at Fire Creek", this Flagstaff outfit is a group you don't want to miss!
Come on out and join us for an unforgettable night! This New Year's Eve, we want to safely join together in harmony. Our community means the world to us, so let's celebrate the New Year with each other!